BUSA 1105 is a course designed as an introduction to business for students.  Exposure to different business functions, career opportunities, and successful business people and organizations are offered in the course.  The course also addresses professional development topics such as internships, study abroad, ethics and social responsibility. Students are introduced to the business school faculty and curricula requirements.
Faculty members from each of the business disciplines facilitate lectures on the different business areas and business professionals are brought into the classroom to reinforce the faculty lecturers and to facilitate workshops regarding professional skills. This gives students the opportunity to experience the faculty expertise and the applied experience from the professionals.
In addition to learning about the business disciplines the students also learn many soft skills.  Critical thinking, business communication (written and verbal), networking, resume writing, interviewing, teamwork, business ethics, leadership skills, professional self-promotion, global awareness, experience working with diverse individuals, goal setting, etc. are all introduced and reinforced throughout the semester.
Adding the BUSA 1105 class to the curriculum has been a tremendous benefit to Hull College students.  Students are exploring major and career opportunities earlier in their career and they are making more informed decisions about their future plans.  Students are better prepared for upper-level business courses and are more prepared to demonstrate professional behavior in the classroom (which enhances learning) and when pursuing internships and full-time opportunities.  We are producing a more prepared workforce for our employer customers while also positively impacting the professional development and growth of our students.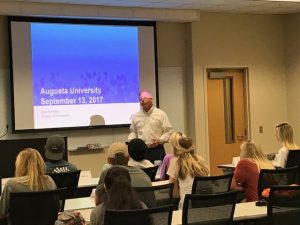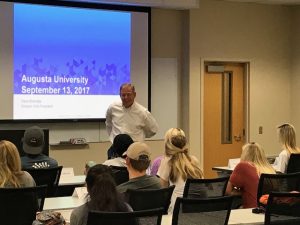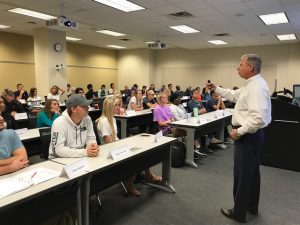 Dave Brendza, Division Vice President and General Manager at ADP-Augusta, speaks to students about business communications.